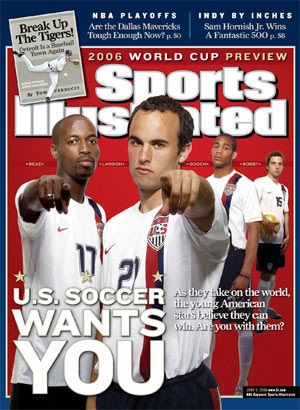 (
Closest thing I could find to a soccer "card"
)
WCF Courier
- I'm sure you've heard about
Coach Thomas
at this point. Sad news, for a community that's just getting over last summer's tornadoes.
The Sporting Blog-
U-S-A!!!!!!!! Hells yes, we beat the bastards in
City Hall
Madrid. I think this is the best recap I could find. Oh and Brazil, I don't know if you've ever seen the Rocky series, Major league II, or the Miracle on Ice but.....THE USA ALWAYS WINS IN SEQUELS, SO TAKE YOUR JAMBA JUICE, TURN THAT SONBITCH SIDEWAYS AND STICK IT STRAIGHT UP YOUR CANDY ASSES.
The Big Lead
- I'm sorry that last link was so stereotypically American of me. If you want to read hyperbole coupled with the use of Malia and Natasha Obama to justify a notion that Soccer is more popular in America than baseball. Then by all means, read this f ing gem.
Losers with socks
- A (most likely fake) funny facebook/recruiting blunder.
ESPN
- HOLY SHIT SHAQ AND BRON!!!!! This news only has one response.
Shaq Diesel
rap videos
. (video autoplays because ESPN is stupid)
Free Darko
- The NBA draft is tonight, and to be honest there is too much good stuff on the front page of Free Darko to pick one. But here is their
mock draft
in all of it's confusing picture glory.
Barkley's Mouth
- Things overheard at the NBA draft. Good form, Barkley's mouth, good form.
Quick Hit
- Aaaaaaaand here is your obligitory NBA draft drinking game. Stay safe Hobbers.
Your Natural of the week goes to Oguchi Onyewu and Tim Howard. Onyewu for having Matrix like defensive skills. Howard for 1. Being awesome 2. Not being Kasey Keller.