It's Memorial Day which means many of us are going to spend our day on a deck, next to a grill, and playing various yard games.
However, we should also remember and give thanks to all of the servicemen who gave their lives and still continue to serve.
Since we're a sports/culture site I decided to give you a little Memorial Day reading.
One of the better SI pieces I've ever read
profiled Bob Kalsu
. An All-American at Oklahoma, who was drafted into the NFL only to join the fight in Vietnam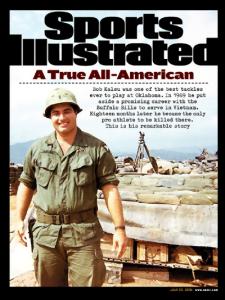 Very similar to Pat Tillman
Have a safe one gang.